Third Party Recognition
I don't do stuff for the recognition but it's kinda cool when it happens. These days people say plenty about themselves and their businesses to sell their stuff. Potential customers want to know "Is he/she for real? Can I really trust him/her? What do the people who know him/her best and have been around them and doing business with them for years say?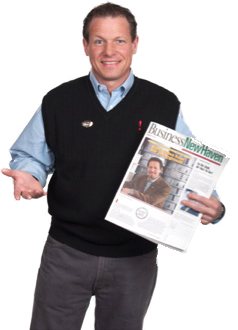 I don't (can't, won't) put up with hanky panky in my businesses or from the people I choose to associate with, and I don't expect anyone to have to put up with it from me either. So here's the track record for me and my team, if anyone is interested –
My book, "The Highest Calling" —
2010 – Grand Champion, Small Business Trends Business Book Awards
2010 – Best Business Book, New England Book Festival
2010 – Best Business Book, Indie Book Awards
2015 Top Workplaces Award
2015 EY Entrepreneur of the Year, New York Region
2015 National Outstanding Eagle Scout Award
2006, 2012, 2015 — Top 10 Places to Work in CT – as voted by our employees!
2014 Good Samaritan Award, Shiloh Baptist Church
2012 SBA-CT State Small Business Person of the Year
2011 CT Business Hall of Fame
Tom Peters covered my thoughts on "busy" versus "growth" in his blog from May 20th, 2009
2009 Greater New Haven BusinessPerson of the Year
2008 Greater Valley Chamber of Commerce Innovator of the Year
2008 Tech Top 40 – fastest growing tech firms in CT – energy/environmental technologies
Master of Ceremonies – 2008, 2009 Better Business Bureau Annual Awards Dinner
Master of Ceremonies 2006-2009 Connecticut Conference on Innovation and Quality
2008 JA Free Enterprise Hall of Fame
30 Patents
2002 Connecticut Breakthrough Quality Award
1998, 2000, 2003 Better Business Bureau Business Integrity Award
1978 Eagle Scout (with 5 palms)
Named by Tom Peters as one of the 5 most interesting entrepreneurs of the past 30 years in Inc. Magazine, April 2009
2003-2009, 31 Innovation Prizes from CQIA (Connecticut Quality Improvement Award Partnership)
1999 Finalist, Torch Award for Business Integrity – Council of Better Business Bureaus, Washington DC
2005 & 2007 Website Marketing Award, Better Business Bureau
2009 Named one of the Top 100 Privately Held Businesses in CT
2000, 2002, 2004 Business and Consumer Education Award, Better Business Bureau
Given the "Presidents Award" by my employees in 2007 for "20 Years of Leadership and Innovation"
Valley United Way Corporate Citizen of the Year – 2009
Featured interview on "The CEO Show," May 2009
Featured in every major newspaper in CT – for GOOD things!